I'm coming up on a few days of work travel and my first time away from Tucker since he was born (sniff) so I took a day off this week to have some one on one time with our thinks-he's-a-big-shot-now 1 year old. I had the list ready for all that I would accomplish during his nap. A little work. A run on the treadmill (the 1/2 marathon training could be described as dismal). And if he took an extra long nap I would be able to (gasp) read my US Weekly. Maybe even last week's. Double gasp.
Here's how the day unfolded:
A crime was committed at approximately 0930. I found one of the victims by the couch. One near the fireplace. The last one? I watched, in horror (and amusement) as he was drowned in slobber:
The suspect:
Verdict: Hide pop up books for at least 6 months
Then we played a little hide n' seek. He's not very good. He peeks out as soon as you call his name. I can't get enough of this face peeking out at me. I could play this all day.
Then we took Tucker's swagger wagon for a spin. Inside the house. Because it was freezing outside. Coincidentally Tucker would like to expose the groundhog as a FRAUD.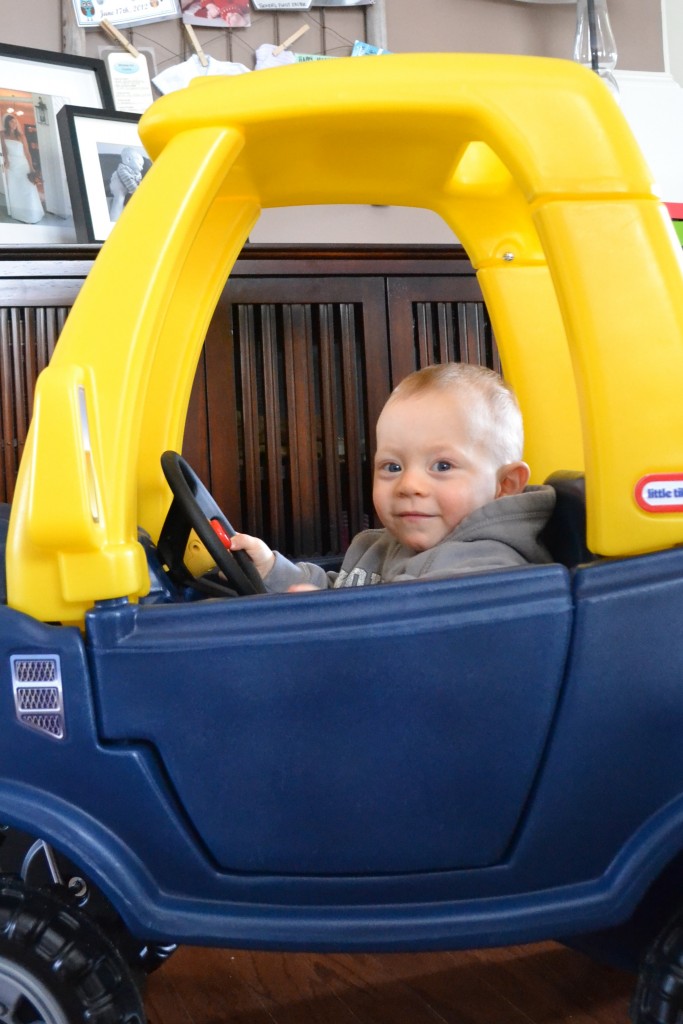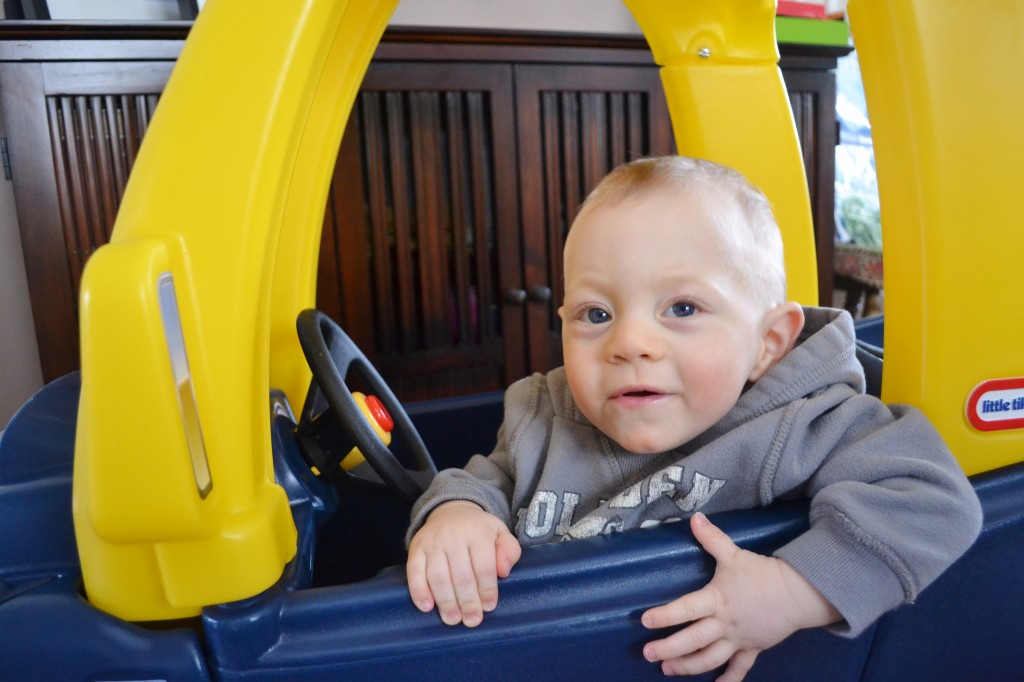 Normally, this room is off limits. But not today.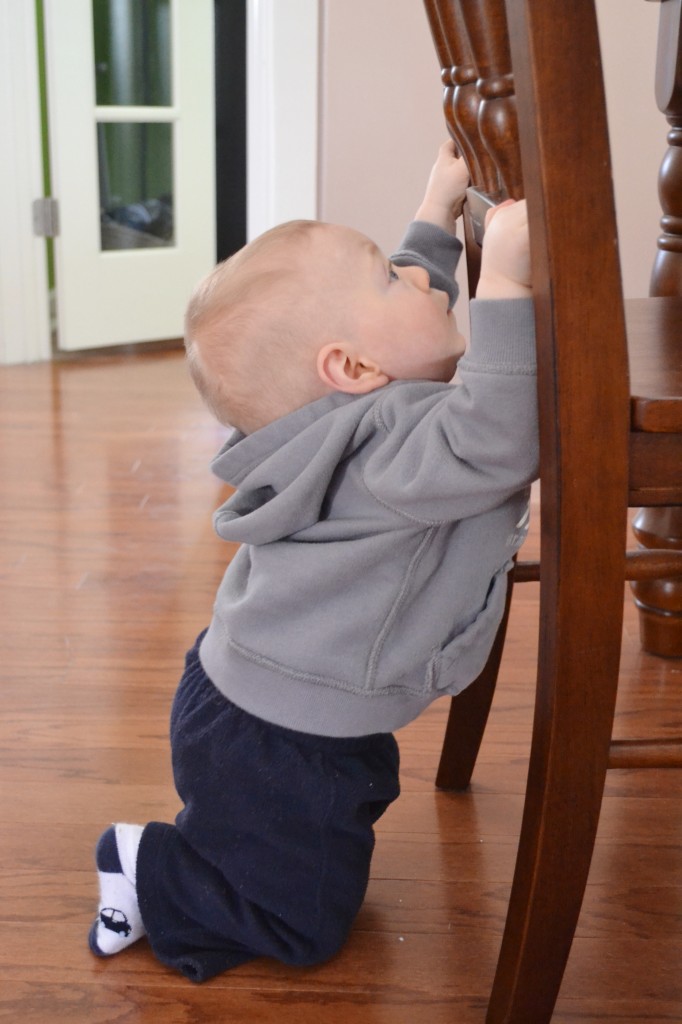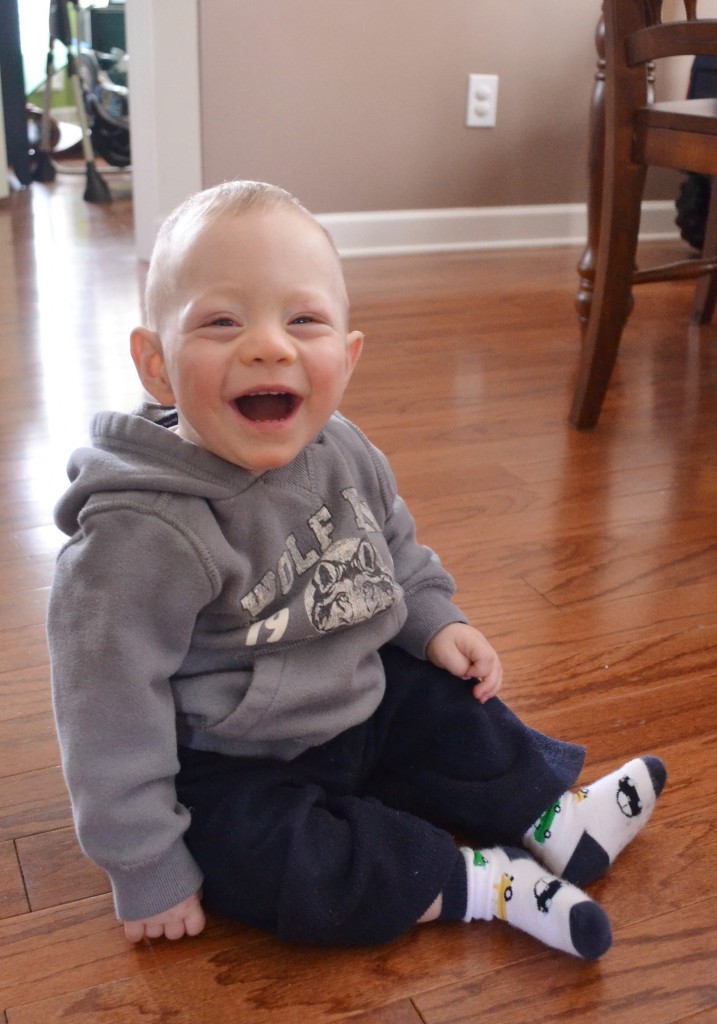 We needed a little maintenance on the bouncy seat. Thankfully, Tucker was able to work me in without an appointment.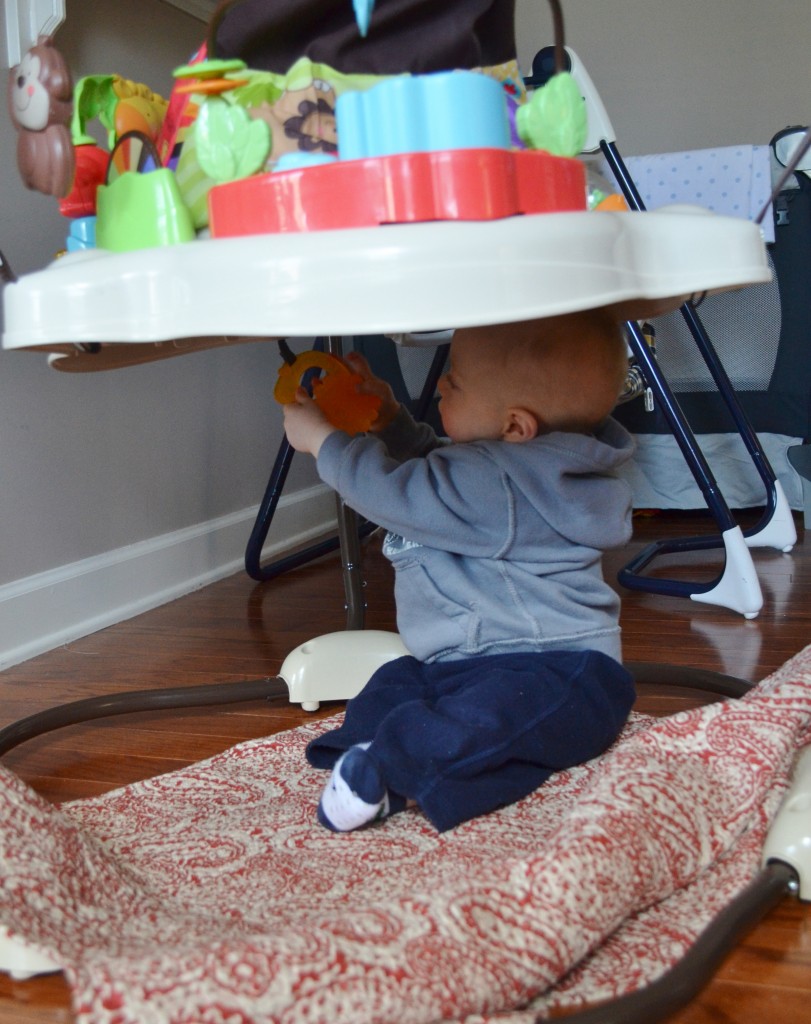 Then. I suggested a nap.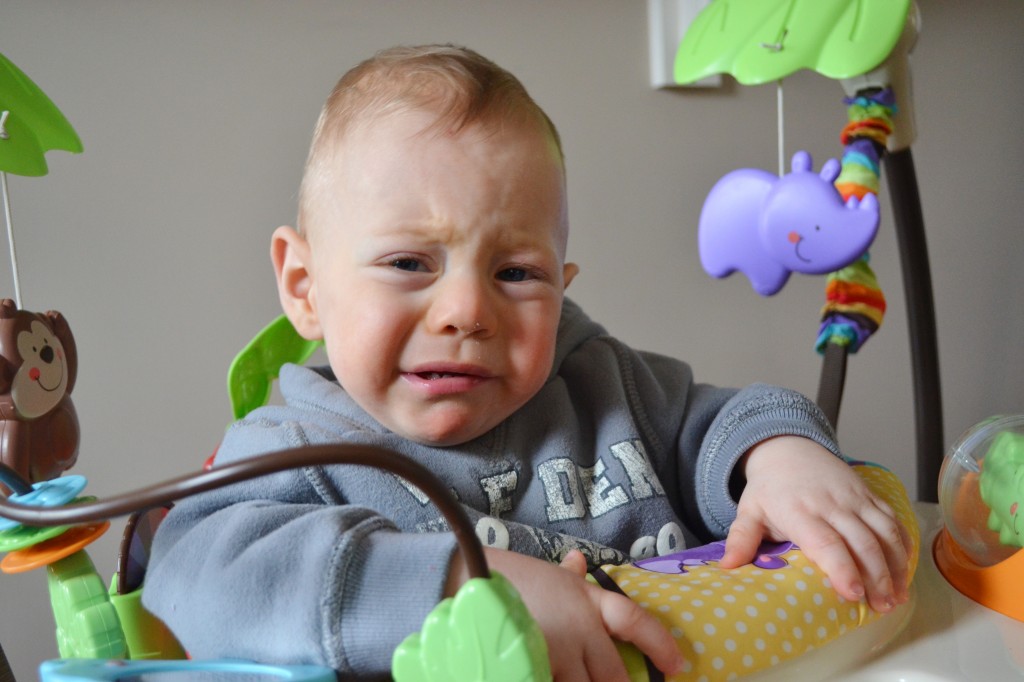 Instead, we settled in for a little March Madness. This is also where mama's bracket busted like china on concrete. Really LaSalle? And NC State, I trusted you. Harvard? That's just crazy talk.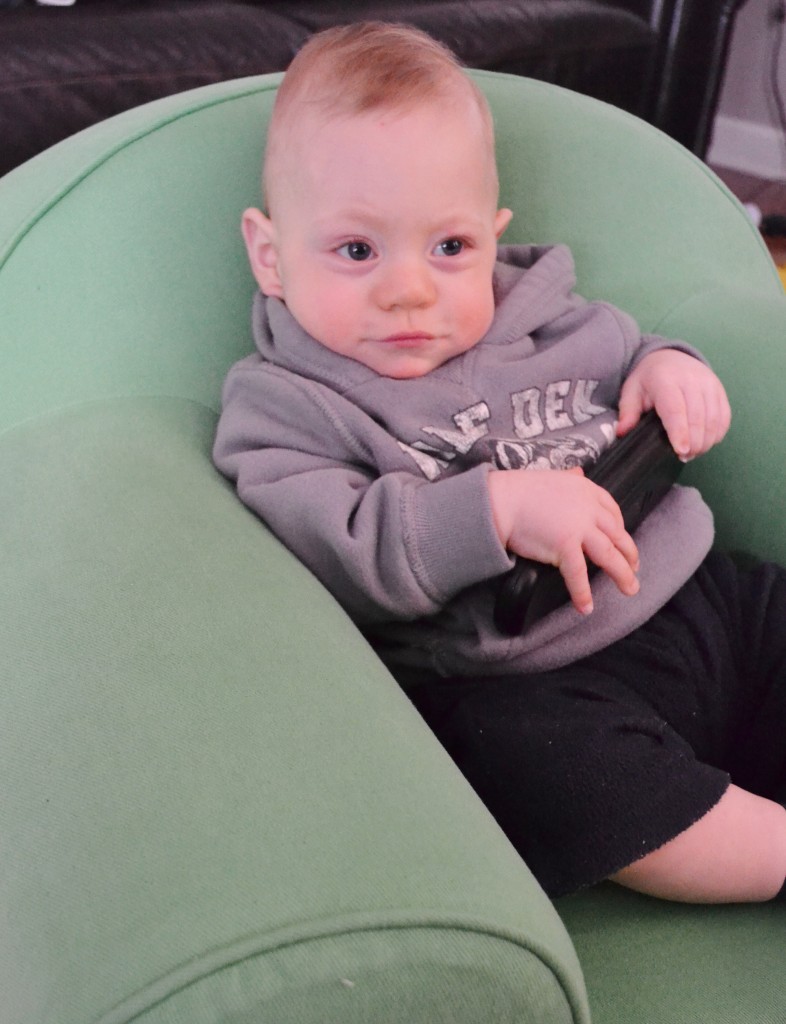 Then. Finally.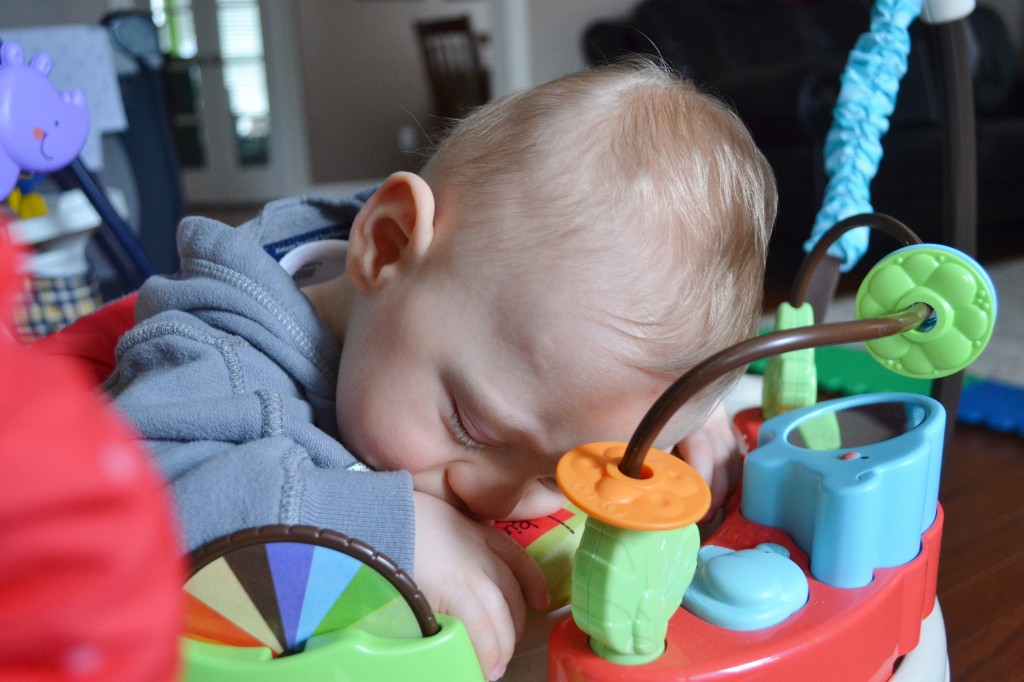 I took three minutes to pick out the bananas from the leftover birthday runts.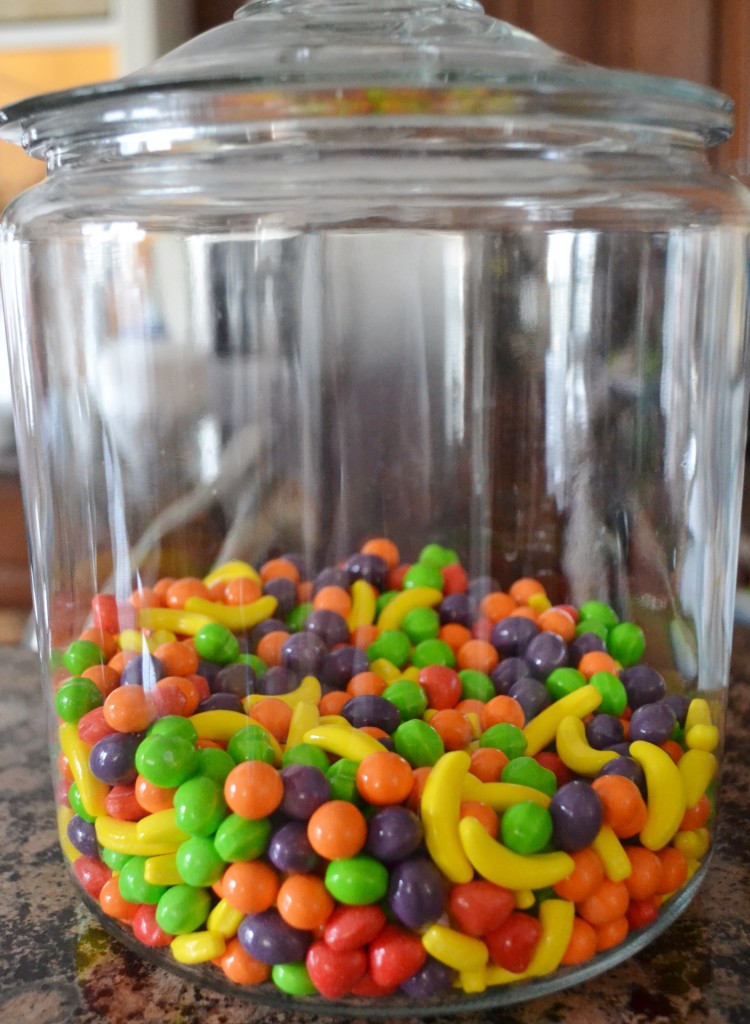 He was fast asleep in his bouncy. All I had to do was gently lift him from bouncy and get him to the crib. And I would have a whole hour of Kardashian gossip all to myself. And maybe even a glance at the Land of Nod catalog underneath. But for the rookie mistake that happened next, my wish would have come true. Maybe it was my excited anticipation of one whole hour of magazine reading. Maybe it was punishment for deciding to prioritize smut-gazine reading over treadmill running. Either way. I failed to turn off the music. You know the music. The tunes that happily (and loudly) shout out colors to you if you so much as touch the bouncy seat. Sometimes even in Spanish. Maybe I could still get him to sleep. 
Or not.
So. No nap. No "Stars, They're Just Like Us" section.  Didn't even look at the treadmill. But I didn't mind. It just meant more hours to spend with these big blue eyes. And watch my bracket fall apart.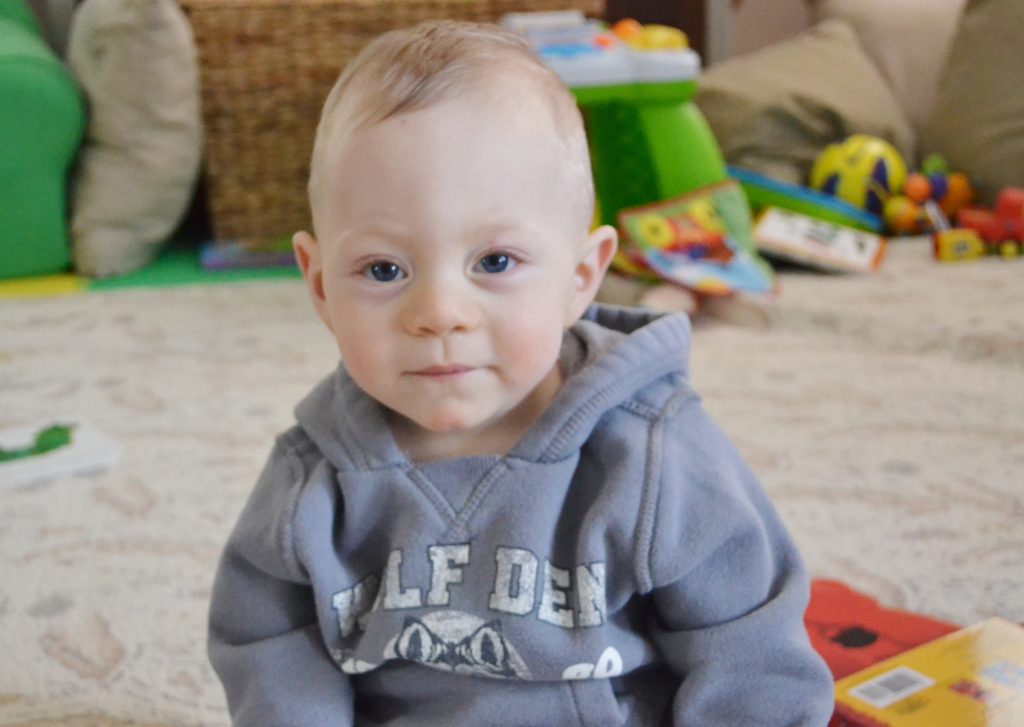 Good couple of weeks for Team Hucks. I'll update next time about all of our appointment news-we've had quite a few. Tucker will also have a new accessory to debut next post. Hope you've had a great week. And if you, like me, chose Georgetown to go all the way well, then…I have nothing to make you feel better. Banana runts are a good place to start.