Listen. Donuts are Life. I don't think I could have much more love for a singlular food item than I do for donuts. I do not discriminate. Yeasty, cakey, baked, filled, fried, coated, topped, "prinkled" (as Molly says), frosted or powdered. I. Do. Not. Care. Bring them to me and you best bring more than one. Who even orders ONE DONUT?
So when the Apocalypse of 2020 descended upon us and it was clear this crew was quarantined for the long haul, we came up with a splendid plan. And like all splendid plans, we incorporated donuts. Truth be told, I didn't have to convince not one single Hucks in this household to participate.
We declared 8 Fridays. Chose 8 Donut Shops in Charlotte. And made a scorecard. Tucker helped me choose the places, based on names and wesbite pictures. We checked them all to make sure online and contactless pickup were options (they were!) and we set out. We did the work for you, labored hard (and often) in an effort to taste, score and photograph our findings. It was hard work. You're welcome. Friends, below are the results of what heretofore shall be known as the Hucks Donut Challenge of 2020.
A few caveats:
No one paid us to do this 🙂
We each rated the donuts based on the following categories:

Taste
Price
Topping Selection
Look
Flavors

We ordered a variety of donuts and split them between the panel for the very stringent judging.
Results are, but the findings of 4 Hucks in this household-no other formal research, surveys or studies were consulted.
While some donuts scored higher than others at the end of the day, is there really a bad donut? I think not.
Okey dokey. Here we go. We'll countdown. If you are impatient, final rankings are at the bottom of this post.
First Up-Dunkin Donuts-chosen by donut lover, Tucker Hucks. There's no denying the colorful marketing and toppings work for this 8 year old. He was excited about our first stop. We ordered online (the night before) and set the pickup time-it was very social distancing friendly. Overall, scores reflected that the shorter Hucks liked these donuts a little more than the other judges.
Dunkin Donuts
Overall Rank: #8
Judges Notes: Price per donut was great! They put a LOT of "prinkles" on, mommy.
Coming in next is Sugar Handmade Donuts, a shop we had never tried. Their donuts, like the name hints, are hand rolled and cut, then fried throughout the day and their fillings are also homemade recipes. This undoubtedly, is why they were voted Best Donut in Charlotte in 2016 by Charlotte Magazine. Our distinguished panel found them to be on the pricey side which lowered their score and we were divided on taste. Some on the panel thought the flavors were somewhat limited and that they were a smidge too yeasty.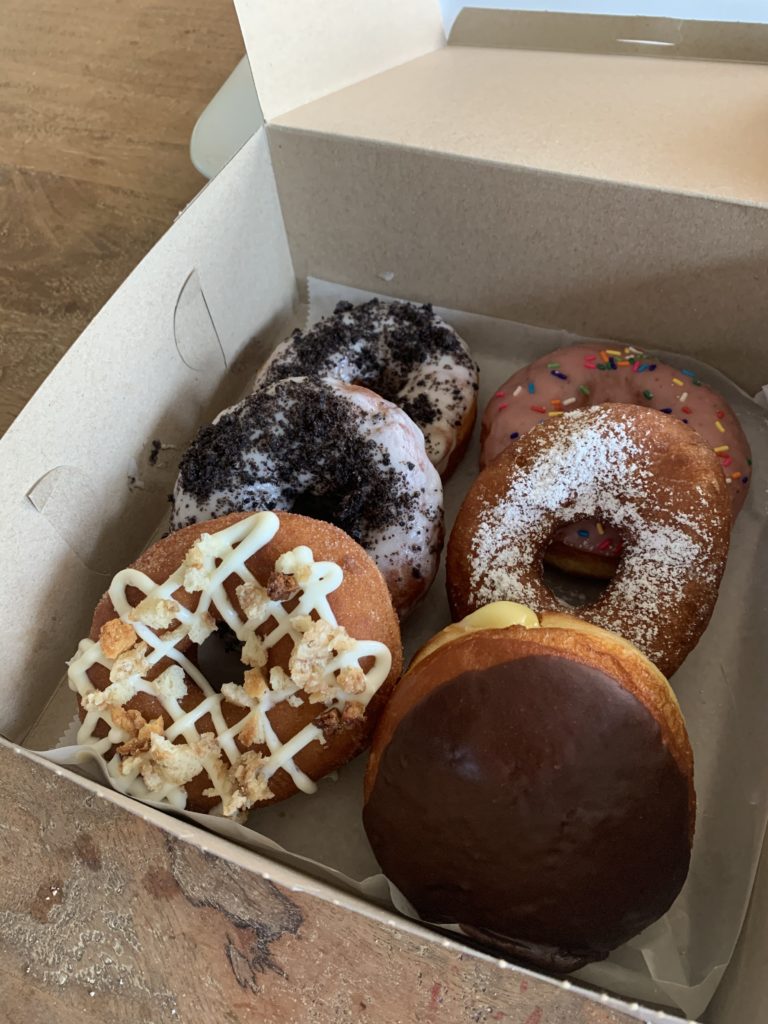 Sugar Handmade Donuts
Ranking: #7
Judges Notes: "These are HUGE!" Cookies and cream were a fave. "Look" scored high. Price-Moderate.
Coming in at #7 is the cutest neighborhood donut window on the list. Reigning Donuts is a walkup shop that makes donuts fresh daily AND bonus they're open day and night. The donuts are cute and simple and delicious (personal fave-honey glaze). They also have fun daily flavors like Apple Pie, Hot Sauce Icing with Chicken Skins (for real) and Peanut Butter Banana. Its clear why they regularly make Charlotte's Top Donut lists. The judges were harsh in scoring toppings and flavors-there are but 6 flavors to choose, and while all of them are fantastic, with only one option for sprinkles, that was just too egregious for some of the judges.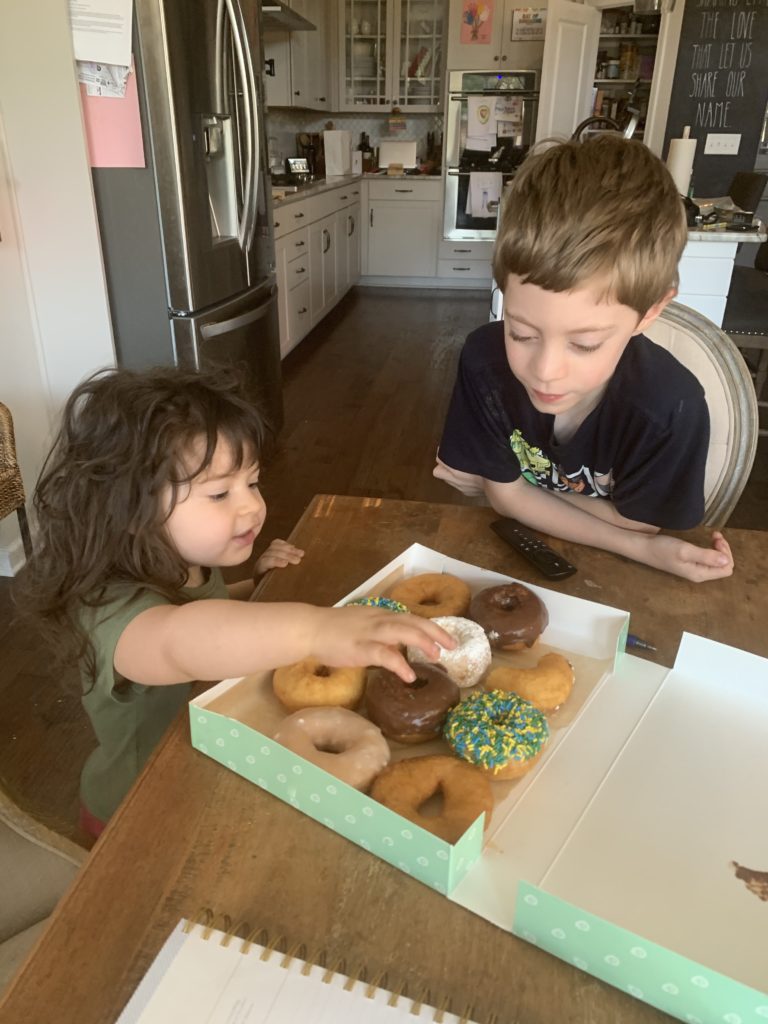 Reigning Donuts
Ranking: #6
Judges Notes: Vanilla glazed were 10. Scored high in taste, low in toppings. Perfect size. "well there are a LOT of sprinkles on it". Hot and fresh!
Our only tie on the list was between the former and our next shop, Pepperbox Donuts. In a trendy part of town, this shop is one of the more sophisticated around with chef inspired flavors like Olive Oil with Tangerine Glaze and Cinnamon Spice Maple Bourbon. Not to worry kids, there is also a healthy (ahem) variety of sprinkled and filled flavors. They scored well in taste and look. The donuts are the yeasty variety and they heavy up on the toppings to the delight of our panel.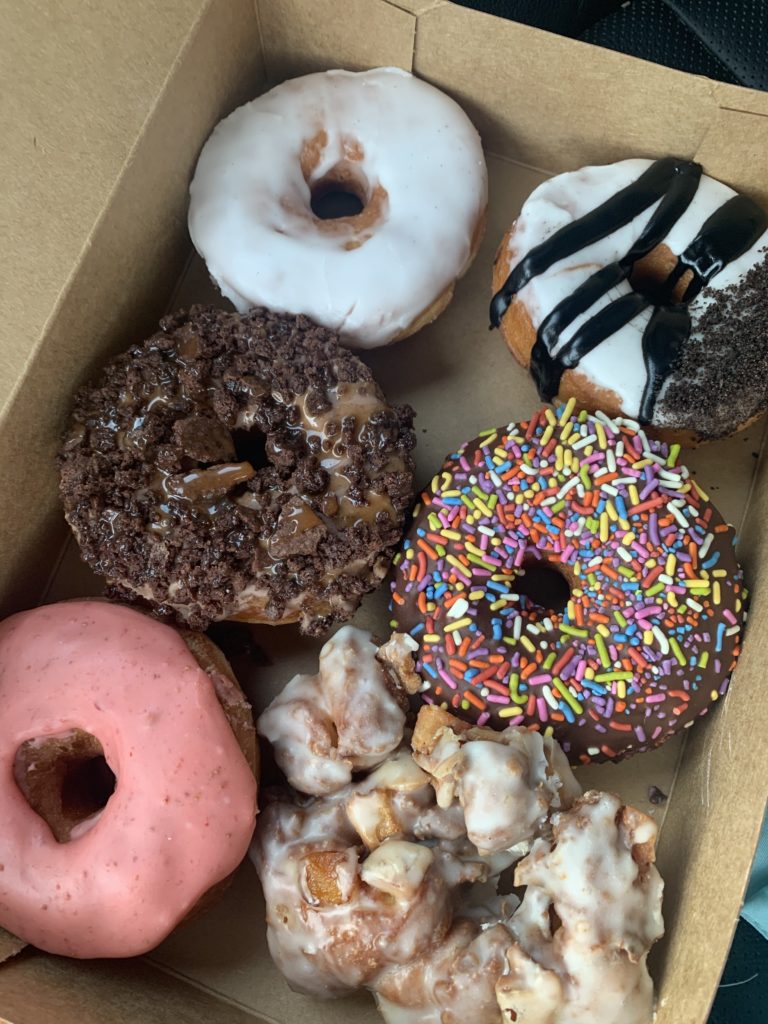 Pepperbox Donuts
Ranking: #5
Judges Notes: Strawberry and Salted Caramel brownie were faves. Pricing-Moderate at $3 per.
When I was a little girl, I knew it was going to be a special day when a green and white polka dot box showed up in the house. Krispy Kreme was born just down the road and it is to NC what Dunkin Donuts is to some of our northern friends. My dad's favorite were and still are, the chocolate glazed. My fave is the basic, hot, glazed Krispy Kreme donut. One caveat, I will not eat a Krispy Kreme donut that is even one day old. It must be fresh and it must be hot-so as to melt into your teeth. The judges scored these high in taste, price and flavors. While it may seem odd that a chain donut shop landed above some of these custom shops, I offer this: they are good. they are cheap. and I am nostalgic. It's my list-disagree? Make your own list.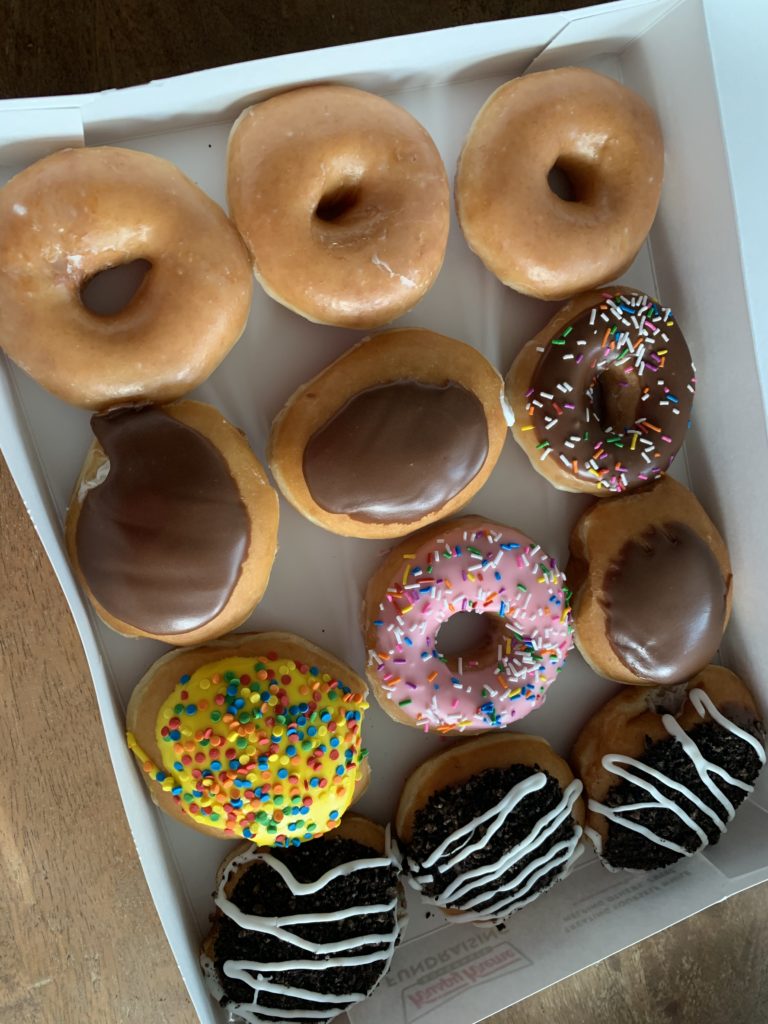 Krispy Kreme
Ranking: #4
Judges Notes: If the Hot sign is on, pull over. Glazed still has my heart. Kids pick: Cake Batter filled with sprinkles. Duh. Scored high in price ($11.49 per dozen assorted) and flavors
Ok, we're down to the Top Three, and friends, it was close. This next shop just opened last year and they are pretty amazing. Down for Donuts makes homemade donuts and other baked goods every single day and when they're out, they're out-so order early. Two days a week, I'm told you will find apple fritters as big as your face on the menu and they sell out within hours of opening. Alas, that day is not Friday which was our day of choice.
Down for Donuts is owned by high school sweethearts, Lisa and David, whose son, Zach wanted to open a donut shop. Zach, and most of the Down for Donuts employees live, thrive, contribute and work with physical and intellectual disabilities. The shop assists the Exceptional Children's Teachers & Occupational Course of Study at the local high school. And let me tell you, they make some darn good donuts. They scored exceptionally high in taste, price and flavors. I'll be back. On a Wed or Thurs. To get those face-sized apple fritters.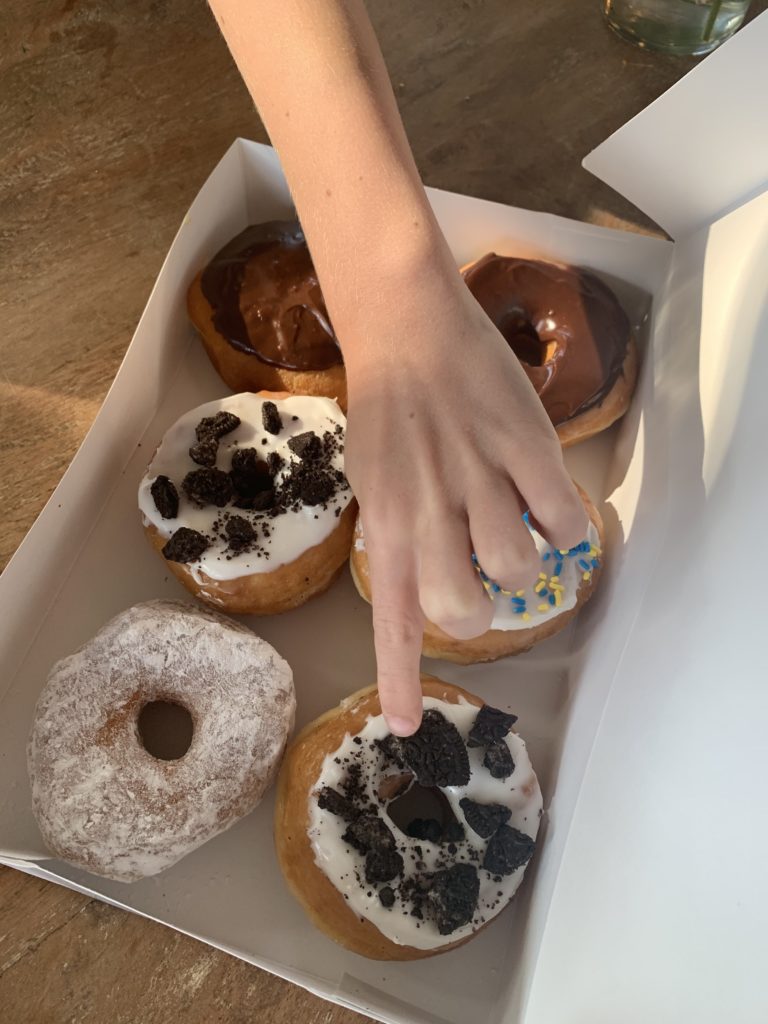 Down for Donuts
Ranking: 3
Judges Notes: Cookies and Cream. Hard Stop. "Mommy, this chocolate is insane" Scored high in taste, flavors and price.
Number 2 might cause rumblings. Many friends will say they are hands down the best donut in Charlotte and maybe even the entire state. My first encounter with Your Mom's Donuts was 4-5 years ago when I bribed Tucker into going to the Davidson Farmer's Market with me one Saturday morning. If he went with, I would get him a donut from the YMD stall that I knew was there. Since that time, if I ever say I'm going to the Farmer's Market, Tucker asks if he can go…because he wants their donut.
Your Mom's Donuts are known as a craft donut, offering a variety of donuts made with locally sourced ingredients from nearby farms (love). They scored high in every single category. Except price. The square donuts with itty bitty holes (I'm a fan) are huge and flavors change each week with fun twists like Pumpkin Black Sesame, Color Changing Lemonhead and Salted Caramel. My personal favorite is the Vanilla Bean Glazed-you can see the flecks of vanilla bean and it is heavenly.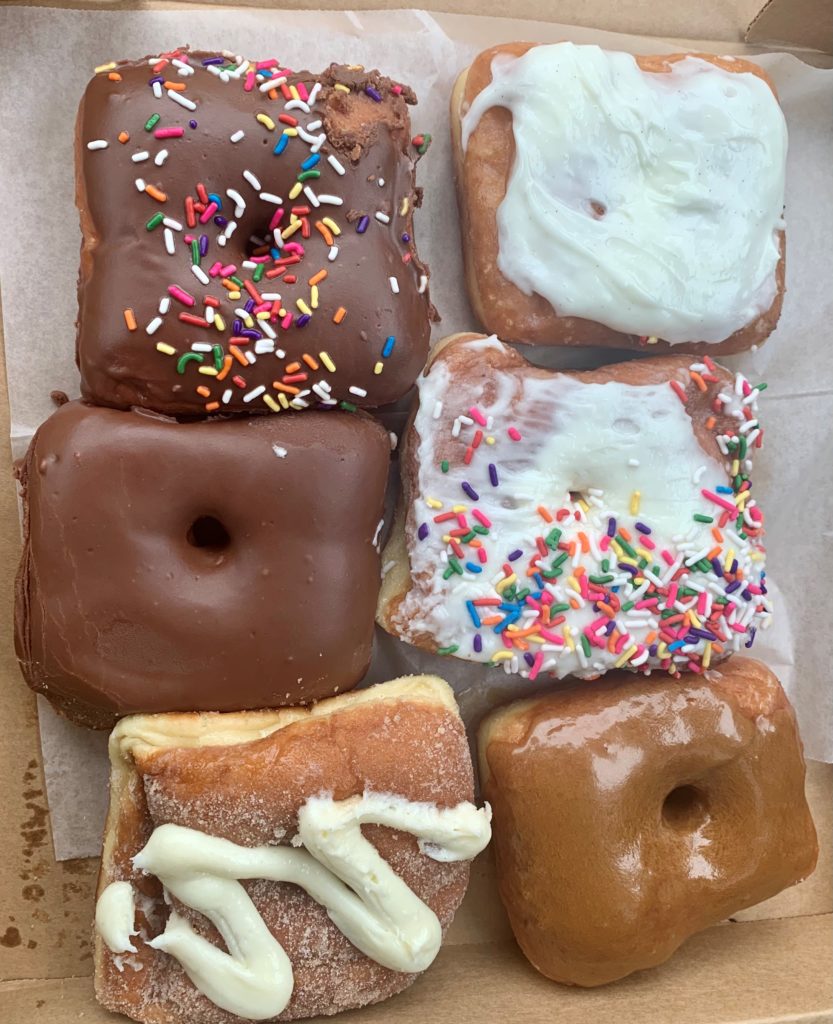 Your Mom's Donuts
Ranking: #2
Judges Notes: "Why did you only get 6 mommy?" Faves: Salted Caramel, Milk Chocolate Ganache & did I say? Vanilla. Bean. Flecks. Scored high in taste, low in price ($3.75 per)
We've reached the end. And if you are a donut lover in Charlotte, you no doubt noticed one fave was missing above. When it comes to all the categories on our list, there was one shop that scored high in all of them and it happens to be one of our go-to shops. Duck Donuts has been a Hucks fave since they opened about 15 minutes away. Made to order, a zillion combinations, so hot you have to agonizingly wait for them to cool before you eat them and…lots of "prinkle" options.
We love Duck Donuts. In the end, from the judges table, the ability to customize your own glaze, topping and drizzle sent this shop over the top. You want bacon on top of your chocolate glaze with a maple drizzle? Done. You want coconut topping your blueberry glaze with a marshmallow drizzle? You got it. Plain glazed? Heaven. Chocolate Peanut Butter with Oreo topping and hot fudge drizzle. I'll take 2. Seasonal flavors? No problem. And…all this bliss in a box for $13.50 a dozen. Glaze Me Now.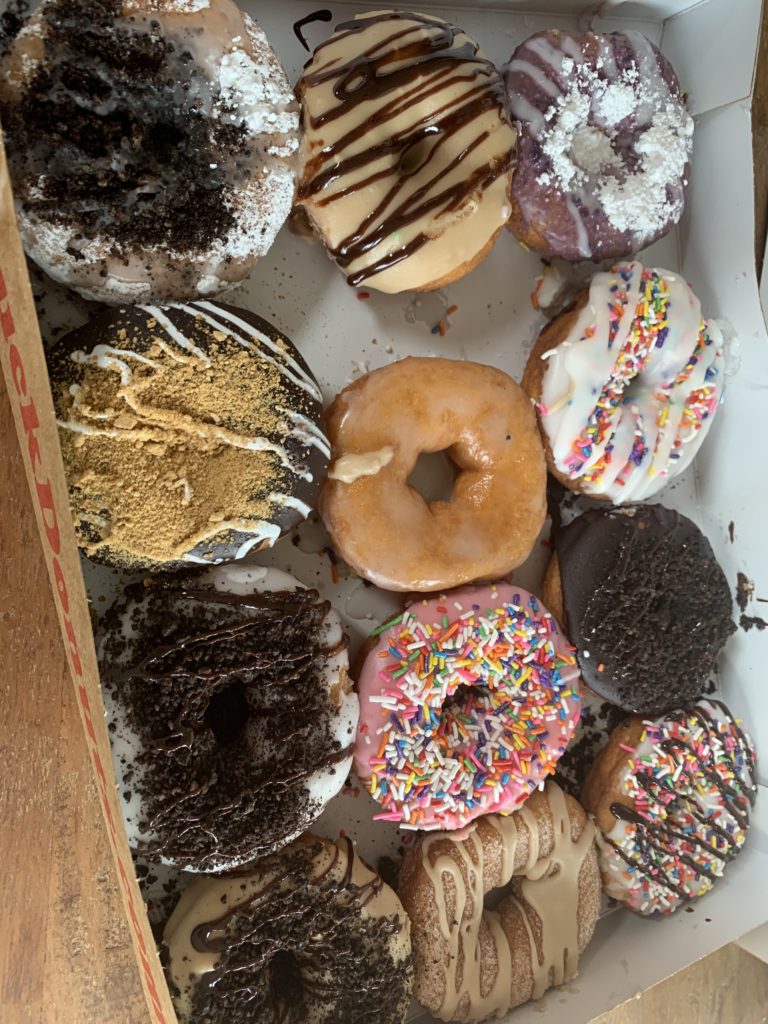 Duck Donuts
Ranking: #1
Judges Notes: Faves: Vanilla Glaze+Oreo+Fudge Drizzle, Vanilla Glaze + "Prinkles"+ Marshmallow Drizzle. Price, Flavor Combo and Taste landed this in our Top Spot.
While our results may not be your's (and we are not open to a recount), I know we can agree that Donuts Are Everything. Especially right now. During this year that is handing us all a big bag of yuck, this was a bright spot. The smell, the colors, the fun flavors, the anticipation, the judging-it broke up our weeks of quarantine and made us…happy. The kids proved to be tough judges and we practiced some math along the way (but not that Common Core array, tape diagram mess-who even knows when we would have arrived at an answer using that ridiculousness).
We hope you enjoyed the list and we think all of these shops are worth a stop! Approximately 7 minutes after we tallied up all the scores at the end of the 8 weeks, the kids had one question-"Mommy, Daddy, can we do this again with Ice Cream?????"
Hucks Ice Cream Challenge…Summer 2021.