Love stories are funny things. They show up and unfold unannounced, on ordinary days, in the strangest places. In the Dunkin' Donuts line. At the airport.  In the parking lot of a Def Leppard concert (oh yes loves, 'tis true). But the one I'm going to spill here, began in a sterile low light Neonatal ICU. Try and write a love song about that one, kids.
She was blonde and so was he. She walked up to his isolette and thought he might be the smallest, but most adorable 1 pound baby she'd ever seen. He couldn't see her yet-he was born at 24 weeks and his not-yet-developed eyes were still fused shut. But he could hear her sweet Elkin-twanged voice when she took his temperature, checked his heartbeat and adjusted his ventilator settings. She looked at the baseball themed sign taped to the end of his plexiglass box. "Tucker Hucks" it said.
We arrived a short time later and sat by his bedside. We really liked this new nurse that had been assigned to our days-old baby for her shift. Her name was Kayla. By the end of the shift we knew enough about her that we asked her to be Tucker's primary nurse. She said yes. It meant that anytime Kayla was working, she would be assigned to him. From that day forward, Tucker and Kayla were joined in a way neither of them knew would change everything.
We got to know Kayla pretty quickly. When you're sitting by your baby's isolette, unable to hold him but also unable to leave him, there were lots of hours to fill getting to know each other's story. We talked a lot as she took care of Tucker and the other baby assigned to her. We learned about her life, learned the timeline of all that led her here, to this hospital to be a nurse to the sickest, smallest, most medically fragile babies. A week or so in, Darrin and I whispered to each other when she walked over to the other baby, "We should totally set her up with Dave." Darrin even sent Dave a text that night, "We met your future wife tonight".
In typical Dave fashion, he ignored it. Dave was never getting married. He'd always tell me this when I brought up girls he dated. But I couldn't understand it, and didn't believe him. He was one of my favorite of Darrin's friends. He was sweet and funny and thoughtful. And totally the marrying kind-in my book. He would never tell you this but when I had our first miscarriage, Dave (single, sports loving, never-gets-mushy Dave) sent us the sweetest hand written card with his sympathy, unprompted by anyone. Just because he knew it was a rough time. Good guy. And we had found his girl.
But I've digressed from the love story.
Kayla worked the night shift. So, when we left the NICU every night, we left Tucker with her all night long. That's when the love story began. She talked to him, held him while she did her charts, watched his every movement until she learned what his cries meant, the direction he liked to face when he slept, and how he liked to be swaddled. Once he was well enough to hold, she made it a priority for Darrin and I to get in as much Tucker holding time as we needed. She sent us cute pictures of Tucker while she was on shift even though it was against hospital policy. Essentially, she was his mama in the middle of the night in a quiet NICU for 5 months when I couldn't be there. She had taken care of other babies of course, but she'll be the first to tell you-Tucker was different. She loved him differently. The other nurses knew and could see the bond Tucker and Kayla had formed and they knew one thing Darrin and I didn't.
Nurses take on "primaries" often in the NICU. It's so wonderful for the parents because they get consistency in who's caring for their sick baby and that means everything. Nurses love it because they get to know the families and the babies so well and they love to watch these resilient kiddos do miraculous things. Primary nurses typically keep their primary baby for months, until discharge. The bonds are tight. So it's devastating when they lose one. Every NICU nurse has. What we didn't know is that Kayla had lost her last primary. In fact, she hadn't taken on another primary for almost a year because she couldn't bear to get that close to another baby.
Until Tucker.
The night before he was discharged, Kayla wasn't supposed to work. She re-arranged the schedule. She wanted to take care of him one last night.
She came in with gifts. We had gifts for her too. We cried, all 3 of us, when it was time for us to leave for the night. I called around 2 a.m. like always to check on Tucker while I pumped. She had been holding him all night. She couldn't put him down. After I hung up the phone, I opened the card that Kayla had written to Tucker and handed us that night. In it, she told Tucker that he had saved her. She told him about the baby before him and that she had been in one of the hardest, saddest, darkest places in her nursing career when he showed up to her pod in the NICU. He had changed her life, she told him. She was about to find out just how much.
The day after Tucker was discharged, he was re-admitted to a different hospital. Kayla, of course, came to visit. As fate would have it, Dave was visiting someone at the same hospital. I plotted a genius plan in about 7 minutes to somehow get them to meet. Like about half of my plans, it worked. Darrin executed the mission flawlessly. Dave and Kayla "accidentally" met in the hospital cafeteria. You've never seen that on the Bachelor's dream date.
This past weekend, Dave and Kayla were married. Tucker walked down the aisle just before the glowing bride that he adores. Dave watched her, smitten. They have a love story for the ages. Darrin was a groomsman and fittingly, I was the wedding planner. As I held the train of her dress just before she walked down to join the guy-who-was-never-getting-married, I cried. It was the only time I cried all weekend.
I told you this was a love story. Kayla loved Tucker. She took the chance that it might end badly and she loved him anyway. That's what NICU nurses do. They pour into these tiny patients who can offer nothing in return. They educate, advocate, celebrate and at the saddest times, grieve with the ragged parents of these babies. They spend 12 hours a day learning the babies and knowing when to wake a doctor if something isn't right. They are mothers and fathers during the middle of the night when the parents can't be there.
We love Kayla because she loved Tucker. We don't know why he came into the world 4 months early-it was rough. Maybe Dave and Kayla would have found each other anyway. But this is the way it went down. Kayla saved Tucker and Tucker saved Kayla. Somehow, in the midst of of one of the scariest years of our lives, God was orchestrating a love story. Dave and Kayla made Tucker the star of their wedding. Towards the end of their first dance, they motioned for Tucker, he happily obliged. The three of them danced while the rest of us cried. Tucker will always be the beginning of their story. Kayla will always be the beginning of Tucker's story. I adore the intertwining of it all.
We didn't want our baby to spend 5 months in the NICU. Kayla didn't want to get close to another baby. Dave didn't want to get married.
But love.
And I love a good love story.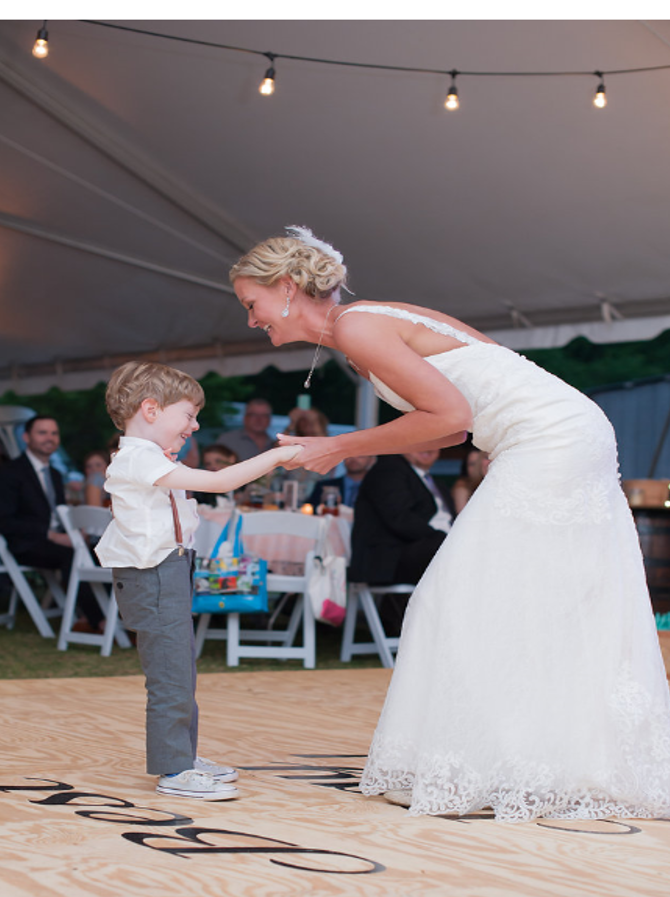 Photo credits: Cindy Lauren Photography