We had only, in the few days prior, begun to come out of the fog and shock of wrapping our heads around the realization that we had a 1lb baby in critical condition in ICU. And we understood very clearly that he was going to be there for a long, long time.  It was around day 10 of Tucker's life and we were beginning to learn the NICU. What each of the 10 wires or tubes were, what the beeps meant on the monitor, what beeps were more urgent and significant than others, the schedule of the NICU. We were learning the differences between the neonatologists, respiratory therapists, social workers, nurses, nurse practitioners, specialists and so forth. I had just reached out to the only other person I had ever known who had a baby at 24 weeks and that's when she told us about maybe the most important thing about the NICU. Primary nurses. And I knew we needed one. Quickly.
Primary nurses agree to care for your baby for their entire shift, every time they are working. They will stay with your baby for their whole journey through the NICU-no matter how long that is. They know everything about your baby. What certain cries mean. When his color is off. When he's acting funny. How he likes to lie in certain positions. That he always bradys (heart rate drops) when he gets the hiccups. When a neonatologist, respiratory therapist, surgeon, specialist or anyone else needs to know something about your baby-they go to his primary nurse. The primary knows when to push the doctors for a test, for blood work, for more medicine, for feeding changes, for trials off the oxygen. And not only do they know their babies, primary nurses build special bonds with the parents of the baby.
And so, on that Day 10 of Tucker's life, we were in hot pursuit of the best primaries. We needed at least 2 for the day shift and 2 for the night shift since the nurses work different days each week. We had asked a couple the day before, but they already had primaries. After a really hard day when Tucker had come off and then had to go back on the vent (ventilator), we were about to head to the hospital for our evening visit, our 3rd and final visit of the day, the one I sometimes called our "tuck-in visit". In the car, on the way to the hospital Darrin and I prayed, as would become ritual.
We prayed specifically for a good nurse to have Tucker that night.  The one he had during the day shift was more rough with him than we liked and we just hadn't bonded well with her at all. A bad nurse experience is unbelievably hard when she's taking care of your brand new critically fragile baby-the baby you hadn't even held yet. So, we prayed for a night nurse who would be gentle with Tucker. One that we would immediately love. One that would be a perfect fit for Tucker and for us and one that wouldn't already have a primary so that she could agree to be T's. We had checked before we left the afternoon visit and knew that our nurse's name that night was Kayla-we had not had her before. So we prayed, "Lord, please let Kayla be the one."
We got there and Kayla had already cleaned up his isolette, it was tidy and his wires and tubes were perfectly placed. Check mark #1. We watched her clean off the leftover tape residue, very gently, from Tucker's face during her first routine assessment. Check 2. She spoke so sweetly to Tucker as she did his assessment and then asked us if we wanted to take his temp and change his diaper. Check 3. We talked to her for a little bit, asked her questions about Tucker which she answered easily and in a way that put us at ease. Then I noticed it. She had matched his isolette blankets. I could hear harps playing in my head and I kept giving Darrin the "oh-my-goodness-she's-the-one" look. She walked across the Pod to the other baby she had been assigned that night and I whispered to Darrin-"is it too soon to ask her?, should we wait a little later in the shift?" It felt like a proposal. Would she say yes? Did we seem too eager? Would she take the final rose? We decided to pounce.
When she walked back over to check on Tucker, she stuck her hands in the isolette and started working on some pesky wires that wouldn't stay where she wanted them. We started small talk-are you full time? How often do you work? How long have you been a nurse? Where do we live? Then it went down something like this:
Me: "Kayla, ok so I'm just gonna go for this and I know we've only known you for an hour. But we love how you take care of Tucker. Do you have a primary?"
Kayla (paused, sorta smiled): "No, I don't."
Me: "Would you be Tucker's?"
Kayla: "I've been asked by a few families lately, and I keep saying no."
Me: (heart breaking): "Oh no, why?"
Kayla: "I don't know. I've just been waiting for the right one."
Me: (please let us be the right one…please let us be the right one…): "Well, just think about it and let us know-we would love for you to be his primary."
Kayla: "I don't have to think about it. I'll do it. I like the itty bitty ones. And he's sooo cute."
From that moment our life and her life joined. It was sometime later that she mentioned that Tucker was as small as her last primary. I asked her about the last baby she had. I was looking for something to grasp on to. A good outcome for a 24 weeker. Something that would let me know that this journey we just started would end with a happy ending. I asked her, "So, did your last primary have to stay  a very long time in the hospital?"
You know how sometimes, you catch a little glimpse of something you weren't meant to see. Something in the way someone answers you, that tells you that you should steer the conversation in another direction. This happened in that moment. Kayla solemnly smiled and I could tell she didn't know how best to answer me. So she just looked at Tucker and said, "yes, he was here for a long time." I never asked about him again. I didn't want to know the heartache that her longer answer clearly carried.
We spent long nights with Kayla. I knew we had chosen well when she pulled out her nurses bag and it was full of candy. We came to know each other's life stories. We had long talks about all kinds of things while Darrin and I took turns holding Tucker or watched him sleep. We had some hard nights together when Tucker would take a turn in the wrong direction, and she comforted us. She bought him clothes. And did photo shoots with him. And many nights when I would call at 3 a.m. to check on him, she would say, "Oh, he's just here charting with me."
As we neared discharge, Kayla changed her work schedule so that she could be there on his last night. So they could spend one more special night together. She gave us a huge bag of goodies and presents for Tucker. And she wrote him a letter. I wasn't allowed to read it while she watched. So I saved it and read it the night we got home. It is in a box to keep for Tucker to read when he is older.
The letter gave me the answer she had avoided that night I asked about her last primary. He had been very much like Tucker, a micro preemie who spent several months in the NICU. With Kayla. He, though, after several months of doing well, had gotten an infection and quickly spiraled in the wrong direction as many preemies often do at some point in their NICU journey. He, as I feared, had passed to the other side of heaven. Kayla was devestated. This, she said, was the reason she hadn't taken another primary. Until Tucker. You see, on that night, the one we prayed for Kayla to be the one, God knew. He knew that we needed Kayla. And that Kayla needed Tucker too. They healed each other. It was a divine pairing. An assignment hand picked by the Creator. Chosen in the most heart wrenching of circumstances.
So, in this Nurses Week, one that celebrates all that nurses do, I wanted to honor NICU nurses. The primaries that Tucker had were all perfect in every way for our Tucker, and our family. They do so much more than assess and take care of the most medically fragile babies you can imagine. They wipe tears from scared mama's faces. They make footprint cards from the smallest of feet. They fight for room air trials. They rock your baby in the middle of the night, when you can't be there. They text you updates and pictures even when  hospital rules frown on it. They are, quite simply divine assignments. And for the rest of our life we will tell Tucker about these women. These women who kept him alive. Kept us from falling apart. And kept their hearts by his bedside, no matter what.
They are everything to NICU parents. They sign up to ride the NICU roller coaster with you. Every day. Good and bad. Happy and scary. For better or worse. And they fall hard for these babies. They truly and completely love them without condition. We can never repay them. Ever.
This post is dedicated to Kayla, Carmen, Courtney, Lissa, Elaine and Samantha. I will never think of Tucker's beginning without thinking of you.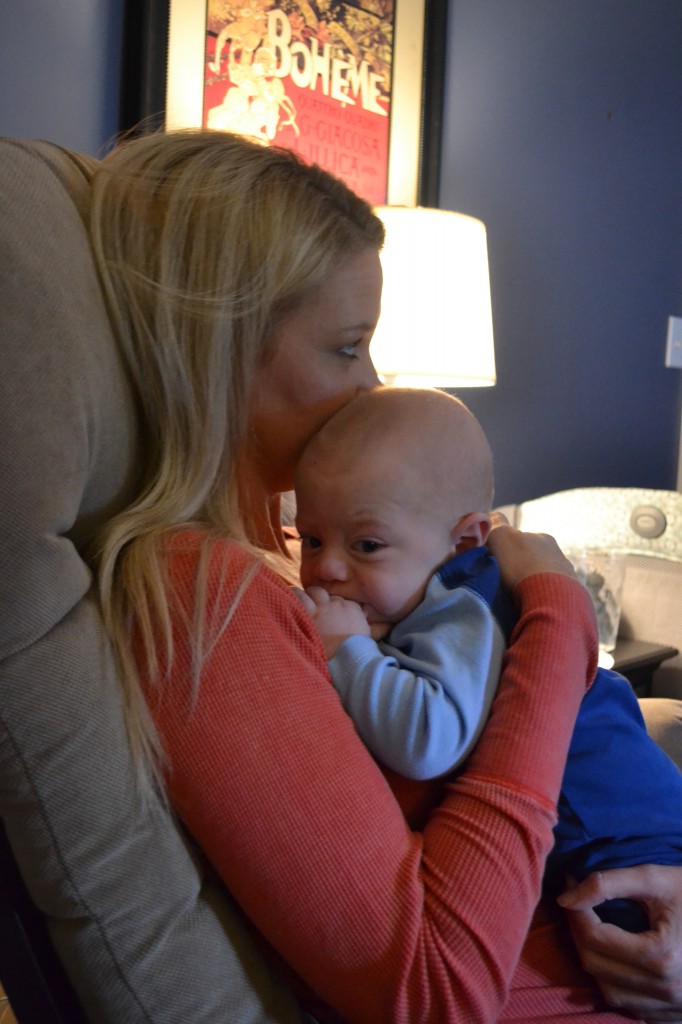 "A new commandment I give to you, that you love one another, even as I have loved you, that you also love one another. "By this all men will know that you are My disciples, if you have love for one another." John 13:34-35